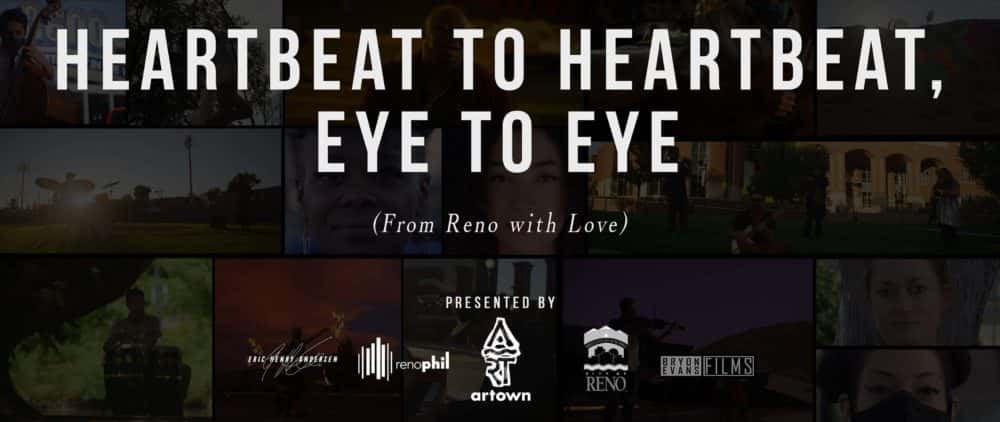 An amazing project has come to life! It's all about Reno and it was made with love. At the helm of this vast undertaking is Eric Andersen (formerly with "The Novelists"). Eric posted this: 
"A few months ago I was approached by the City of Reno, Artown and the Reno Phil to spearhead a unique city song project. The idea was to collaborate with an eclectic cast of artists from around the area and create a song and video that showcased the depth of talent in our amazing city, while encouraging a message of hope and connection at a time when we were all feeling down and disconnected. I was all at once excited about what could be manifested, honored to be asked to lead the project, and anxious about the myriad of ways it could fail. Ultimately, I'm so glad I accepted the task. Working with so many of our area's top notch artists and musicians was truly the honor of a lifetime. I hope you'll enjoy what we came up with!
It was such an incredible honor to work with Bryon Evans (Videographer) and Tom Gordon (Mixing/Mastering/Co-Production) who each brought an insane amount of energy, focus and creativity to the project. The video and audio would simply not be what it is without these two amazing people. Also, thank you Mayor Schieve, Beth Macmillan, Alexis Hill, Megan Berner, Tim Young and Oliver X for trusting me to lead this project. Truly the honor of a lifetime to represent our amazing city!"
Written by: Eric Henry Andersen, Tyler Stafford, Dave Berry, Kate Cotter, Shaughn Richardson, Khalilah Smith Cage, Zachary Teran, Tristan Selzler and Jeff Depaoli.
Produced by: Eric Henry Andersen and Tom Gordon
Video directed, filmed and edited by: Bryon Evans
Featuring: Khalilah Smith Cage, Cliff Porter, Kyle Rae, Shaughn Richardson, Reno Phil and Reno Jazz Syndicate
Proceeds from the song will go to benefit "From Reno with Love Artist Fund," created to assist Reno's performing artists adversely affected by the pandemic. Please visit artown.org to learn more about the song, to see a full list of contributing artists and organizations and to give generously to the fund.
With love and gratitude,
Eric
Here's the on air interview from when Eric called in on Max Volume's "Work Force Free Ride"
Enjoy the video: