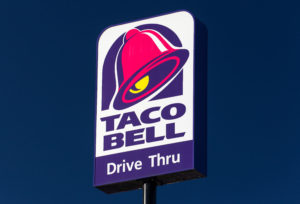 Could this be the first marriage that ends because one of the people was too obsessed with TACO BELL?
A 24-year-old woman posted a story on Reddit earlier this week about a problem she's been having with her 25-year-old husband.
They've been married for one year and, quote, "Husband has always had a soft spot for Taco Bell . . . one day I come home and there's a bunch of '90s Taco Bell memorabilia in the garage."
And her husband used all that memorabilia to create a Taco Bell-themed office . . . including a full BOOTH in the house.
The woman says they have separate bank accounts so the guy spent his own money on it, and set it all up in his office where she rarely goes . . . but she still thinks it's, quote, "ugly and tacky . . . and goes against the entire motif" of the house.
And the consensus on Reddit is . . . SHE'S in the wrong here and should support her husband's hobby because it's not hurting her in any way.  (Reddit)
Loading
Does His Wife Have a Right to Be Upset After a Man Puts a "Taco Bell themed" Office in Their House?
Thank you for voting.
You have already voted on this poll !
Please select an option !