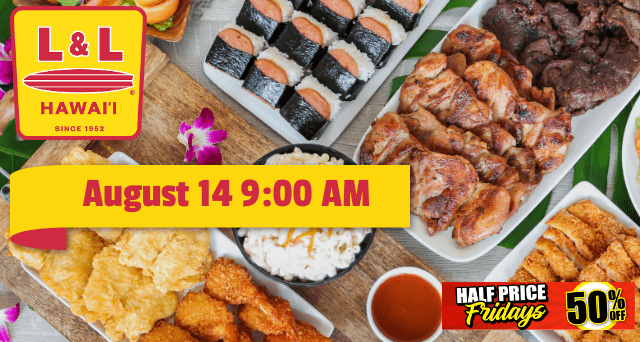 L & L Hawaiian Barbecue
$25 gets you $50 Value at L & L Hawaiian BBQ
Deal Highlights
L & L CATERING FOR YOUR NEXT CELEBRATION! For upcoming Labor Day, Family Reunions, and more, L & L brings the unique flavors of Hawai'i to your special event.
HAWAII'S FAVORITE SNACK: MUSUBI! Try the islands most famous to-go snack!
Hawaii's Comfort Food-Chicken Katsu, Loco Moco, BBQ Cheesburger and fried shrimp.
Delivery options available through uber eats, grub hub, postmates, door dash!
Description: In Hawaii, everything about the islands whets the appetite. The ever-present sunshine, the trade wind breezes, the soft sea air, the delicious sound of the Hawaiian language itself. No wonder the world feels at home at L&L Hawaiian Barbecue, where we fill your plate with all the goodness of the islands of aloha.
Comfort Food of the Islands!
Great little storefront place serving a lot of Asian Hawaiian-inspired food such as katsu, seafood, ribs, pork and saimin dishes a la carte and combination style.  The mini-sized dishes are large enough for a full meal.  I had the chicken katsu and was not disappointed.  Wonderful, friendly employees made it a nice treat to dine in the strip mall, and they currently offer socially-distanced seating during COVID. Yelp Review ****
Make your taste buds do the hula!