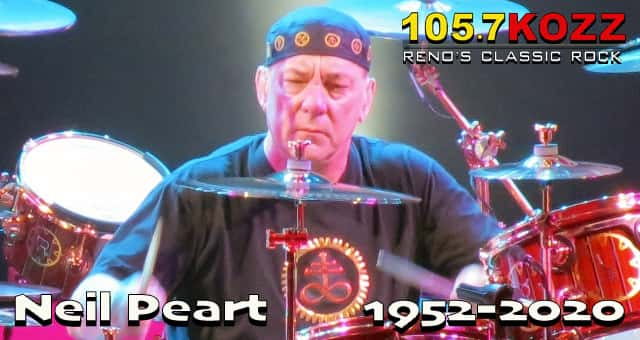 Hi! It's Max Volume, speaking to you from a world reeling from the loss of a beloved soul. A man who brought light to dark places, and a man endured the loss of his Wife and Daughter all within one year. He rode his motorcycle all over the Earth to find the answers to what his "raison a d'etre" was. A man who wrote great lyrics, incredible books and played the drums like no other. His hero was Keith Moon of the Who. Keith, he said, "actually played the drums, not just keeping time."
Neil Peart explored the boundaries of just what music could be, and should be. I first met the band while working for Michael Schivo's High Sierra Concerts. I had Alex on the show on numerous occasions and often went back to spend a moment with these three comical, lovable human tornadoes. It was always a rare treat to talk to Neil. His eyes looked right inside you. His smile was genuine, his words few but strong. 
On Friday 1/10/20 I went live on social media, holding back the tears, consumed with emotion and broke the news. At 2pm I played 2112 in his honor. People who've listened to my show over the last 38 years know that I'm known to do that often, along with the likes of  Xanadu and La Villa Strangiato. 
Geddy and Alex released this statement: "Those wishing to express their condolences can choose a cancer research group or charity of their choice and make a donation in Neil Peart's name."
I  just texted Rush's management's office: "Hi Andy… my heart was ripped in two yesterday… somehow Neil reached inside all of us and built the fires of creative wonder in our souls. We who were there to be part of his journey are truly blessed. People will tell you that you cannot change the world. Those people never knew Neil Peart. I've been on the air in Reno for 38 years, and my favorite indulgence has always been Rush. I went on air on KOZZ yesterday and played 2112 at the start of my show and let the river of tears flow. My love to you and everyone in the camp. Give Alex and Geddy a big hug…"
Dear Neil: Thank you for baring your soul and never compromising…
And to you? Break your fast on Honeydew, and drink the milk of paradise