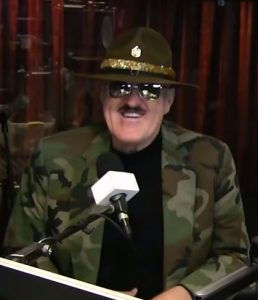 I was a little let down when I learned that MILLI VANILLI didn't sing their own songs.  And yeah, I was in a funk for a while after I realized what BILL COSBY was doing in between all that dancing and eating those giant sandwiches.
But THIS cuts me to my very core:  Legendary WWE Superstar SGT. SLAUGHTER never actually served in the military.  (!!!)
In the early 1970s, Robert Remus developed the character of Sgt. Slaughter, a badass former Marine drill sergeant.  Although his wrestling days are pretty much behind him, he still makes public appearances as the character.
The WWE even included him in an article about wrestlers who've served their country.  But he DIDN'T.
The "Baltimore Sun" outed him all the way back in 1985, and said the Marines were looking into the matter.  But the info never really went mainstream.
Now, you can say "Sarge" was just playing a character, but that's not completely true.  He has always made this claim, even when he's NOT servicing the character.  And he's still doing it today, at age 71.
Like in a recent radio interview where he claimed he served from 1968 to 1974, and did TWO tours in Vietnam.  The problem is, he started wrestling in 1972.
(Skip to 1:42 here, and listen to how VAGUE Sarge is about his service.  It seems pretty obvious he's just making stuff up on the fly.  Careful:  There's some questionable language in this clip.)
For whatever reason, Slaughter's supposed STOLEN VALOR became a big topic of conversation yesterday on wrestling news sites.  (Like this one.)
(What are they gonna tell me next?  Was the Macho Man NOT Macho?  Was Rowdy Roddy Piper NOT Rowdy?  Was Ricky "The Dragon" Steamboat neither a dragon NOR a boat???)
(Thanks for TOTALLY RUINING THE '80s for me, Internet!!!)