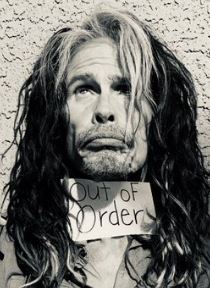 I LOST MY VOICE… BUT I CAN'T TALK ABOUT IT.
REFUNDS FOR THURSDAY 26TH OF SEPTEMBER'S CANCELED PERFORMANCE WILL BE ISSUED AT POINT OF PURCHASE.@Aerosmith #DEUCESAREWILD pic.twitter.com/XlCnfqYks1

— Steven Tyler (@IamStevenT) September 27, 2019
Steven Tyler of Aerosmith has had to cancel last night's show at the Park Theater in Vegas, for the Deuces are Wild Tour, due to a lost voice. It sounds a little familiar, as last week Dave Mason had to postpone a Felling Alright Tour stop at Montbleu for the same reason. The Who had to give up on a Moving On! orchestral performance in Houston after Daltrey's voice gave up around 45 minutes in, then announced the shows will take place next year instead. 
I can relate, as a Northern Nevada resident, and a person tormented by allergies that this year has been the worst ever due to the great winter we had last year. I could lose my voice at any moment too, but you guys don't mind as much when I need to take a day off. I know fans may be sad; I saw a lot of comments giving the artists a hard time as if they had control over a lost voice. Not very nice comments at that, with folks taking shots at Steven Tyler's voice. Vocal cords are not so easy to just make work when they get sick. Think about it… how mad do you get when you go to a show and the singer is having a hard time reaching those notes to your favorite songs; or do you have a little compassion? Would you rather get a not so hot performance, or hold your ticket for a new show date? Our rock stars are only human, as larger than life as they may seem. 
The Who will make up for this canceled show next year. Dave Mason will play Stateline Nevada's Montbleu November 2nd. Aerosmith pick the Dueces are Wild Tour tomorrow (Saturday) In Vegas. Refunds for the missed show last night at the Park Theater in Vegas are available from points of purchase. Aerosmith's Deuces Are Wild dates booked until June 4, 2020, there is plenty of chances to make up that lost show.
Lunchlady
Martina Davis
This just in! Pam Farris Gets Pulled Over!