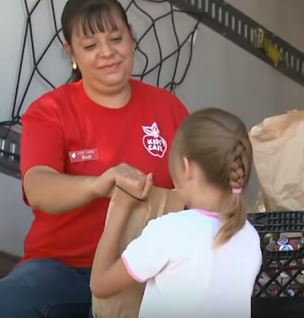 Summer is officially here finally, thank goodness.  That of course means school is out, so in my neighborhood ALL THE KIDS are outside playing, swimming, blasting music, and playing summer pranks on yours truly, The Lunch Lady.  They think it's hilarious to cover my door in shaving cream, stuff like that lol.  I'll forgive 'em I guess ;-).
Well the truth for many, many children in Northern Nevada is that the Summer months mean the Free and Reduced Breakfast and Lunch they are served at school (for students that meet  requirements) are now gone for two months. This impacts families and their food budget more than some may realize.
The Food Bank of Northern Nevada has been picking up the slack so to speak by serving sack lunches to kids for many years with the Kids Café Summer Meal Program.  The Food Bank, thru the USDA Food Program and private donations made, prepare and serve nutritious balanced  sack lunches to kids 1-18 years of age.  No application is necessary,  you don't have to be enrolled in anything, or even give a name. I served these kids one summer…you know, Lunch Lady detail.  The lunches are pretty good with a sandwich or some kind of entree with grains and a protein, fresh summer fruits and vegetables, milk, and juice. Meals do need to be eaten there onsite.  Adults cannot eat, but you can bring your own sack lunch and make a picnic of it! Some Tuesday's will even have a reading activity planned and kids will take home a free book with their lunch.
To find a Summer Meal stop near you enter your address here , and you will get a list of times and locations. You can also find a printable schedule of stop locations.  Also there are local food panty locations and times as well as information about the Mobile Harvest program, which is a direct service program that distributes perishable foods such as fresh produce, bread, and dairy into high-need neighborhoods, among many other things.
If you'd like to make a contribution, bless your heart, you can do so here. Check out the video about the program below.
Happy Lunching, 
Martina Davis, Lunchlady
Check out my Open Letter to Facebook