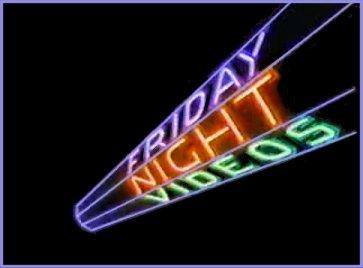 Hi! Max Volume here, I want to share some Reno history about "Friday Night Videos". KOZZ was an NBC affiliate and NBC wanted to bring the magic of music videos to the masses since MTV was only available in a small portion of America. We joined forces and began a joint effort to simulcast NBC's "Friday Night Videos". We'd say "Turn The TV down and turn the radio up for NBC's "Friday Night Videos". At 12:30 am on July 29th 1983 KOZZ simulcast the very first episode of "Friday Night Videos". Initially it was a 90 minute program beginning at 12:30 am early Saturday morning (Friday Night) and running until 2 am. 
The challenge was that back then our technology was growing by leaps and bounds from day to day. Reno was a test market. The broadcast of satellite transmissions, in stereo would have a few glitches to work out before becoming a player in major markets. 
After I worked my on air shift from 6pm to 12am (back in the dark ages of turntables, vinyl records and cart decks) I would change the crystal in the satellite receiver, then sync up the audio feed from midnight to 12:20 with a series of test tones. Then we'd hit the mark with a countdown and an instrumental music bed to pad up to the show's opening launch. I would have to wait until 2:30 am to get off work because I would have to change the crystal back and re align the audio feeds! It was a long night, but it was groundbreaking and exhilarating. It was also a great pairing to expand the boundaries and give KOZZ listeners a peek at what all the fuss about with music television was.