Marce Herz, former teacher & co-founder of the Sky Tavern Jr. Ski Program, will have a new middle school named after her in South Reno set to open in August of 2020.
A teacher as well as world-class athlete, Marce Herz was a co-founder of the Sky Tavern Jr Ski Program, formed in 1948. According to Sky Tavern, more than 100,000 children have learned to ride, and the program is one of the largest and oldest ski and snowboarding programs in the U.S.
Marce Herz was certainly a woman of inspiration and the Washoe County School District Board of Trustees made their vote for a woman who promoted equity and sportsmanship for all students at a time when even accessing the mountain could be difficult for so many families. Her U.S. and world records included track and field, as well as 16 amateur ski titles.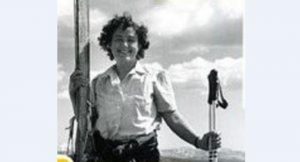 By permission of WCSD and Herz Family
A local, pioneering outdoor woman, Marce graduated from the University of Nevada, Reno and the Reno Evening Gazette employed her as a journalist. Marce lived life as giving and loving person for a short 52 years, battling leukemia until 1964.
Whenever you are riding Mt Rose, signing the kids up for the Sky Tavern Jr. Ski Program, or donating to the program please honor Marce Herz and her family.
I would be so honored to glide the mountainside with Marce Herz. She is a treasured Nevadan and on my shoulder as an angel today!