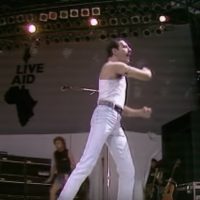 With Queen's "Bohemian Rhapsody" doing big box office ticket sales, "Live Aid" has popped up in a lot of dialogue, being that it's featured heavily in the movie. 
On July 13th 1985 KOZZ broadcast the Live Aid simulcast via ABC radio networks here in Reno Nevada. 
It was the brain child of Irish Rock Band "The Boomtown Rats" lead singer Bob Geldof and Midge Ure of British rock band Ultravox. Two cities, London and Philadelphia simultaneously held concerts at Wembly Stadium in the UK (where 72,000 were in attendance) and John F. Kennedy Stadium in the U.S.A. (where nearly 100,000 attended). It was one of the most ambitious live concert events of all time. An estimated audience of 1.9 billion, across 150 nations, watched the live broadcast (nearly 40% of the world's population). Phil Collins performed in London, then took the Concorde to America and performed again in Philadelphia! 
To find out more about Live Aid CLICK HERE
To help the victims of the Camp Fire CLICK HERE