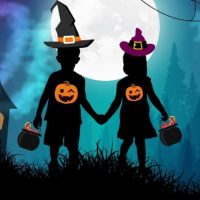 HAPPY HALLOWEEN!  BE SAFE! 
Wednesday, October 31:
Outlets at Legends 
3:00 p.m. – 5:00 p.m. 
Safe Trick or Treat
HOWL-o-ween Safe Trick or Treating 
4:00 p.m. – 6:30 p.m. 
Nevada Humane Society at 2825 Longley Ln. in Reno and 549 Airport Road in Carson City
Free treats for kids in costume
City of Reno's Halloween Harvest Festival 
4:00 p.m. – 8:00 p.m. 
Idlewild Park 
The new family-friendly event will feature spooky train rides ($2 or free with a donation of two cans of food), candy, midway games, prizes, dancing, snacks and costume contest in Idlewild Park's California Building.
National Automobile Museum 
4:30 p.m. – 7:30 p.m. 
Trick or Treat in the Streets of the National Automobile Museum in downtown Reno. 
Special $2 per person admission is being offered for everyone, including children, family members and friends on Halloween.
Downtown Candy Crawl Hosted by Carson City Downtown Business Association 
5:00 p.m. – 6:30 p.m. 
Trick or treat at participating businesses at the 4th annual event.
Trick or Treat on the Comstock 
5:00 p.m. – 7:00 p.m. 
St. Mary's Art Center welcomes kids and parents to trick or treat, view artwork, create and enjoy a good time. 
55 N R St., Virginia City
Don't Trick, We'll Treat
5pm-8pm
Sparks Police will hand out candy to trick-or-treaters
1701 E. Prater Way, Sparks
Sparks Mission Fellowship Trunk Or Treat 2018 
5:30 p.m. – 6:45 p.m. 
Free community event at Greenbrae School in Sparks
—–