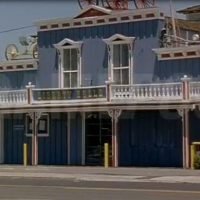 I've lived in the Truckee Meadows since 1991 and first came here to play sax in local music venues in 1985. During that time, I've seen a lot of great establishments come and go, but, as an avid "foodie", some of the most memorable were restaurants that I truly miss. Here's 3 of them:
LIBERTY BELLE SALOON AND RESTAURANT:
Located on S Virginia between Peckham and Kietzke, where the Reno-Sparks Convention Center sits now, this establishment served what many would consider the finest prime rib in the area. It harkened back to the days of a more laid-back western town. The simple menu featured steaks, barbeque ribs, broiled or fried chicken and a variety of seafood and fish.
Until closing in 2006, it was owned by Marshall and Frank Fey, sons of Charles Fey, inventor of the three-reel slot machine. The sons moved to Reno from San Francisco and ran the saloon from 1958 until they sold the property. Among its attractions were slot machines that the elder Frey had manufactured and which now are exhibited at the Nevada State Museum.
FAMOUS MURPHY'S:
Located on S Virginia at Gentry, this was one of the favorite late night hangouts of many locals. After a fun night out, you could head down to the oyster bar, where they served food until 2am, for something to eat and a cold drink to wash it down. You could always see an eclectic mix of locals, off shift casino employees and musicians relaxing there. The staff was always very friendly and welcomed everyone with a big smile. My favorite dish was their Tortellini Alfredo.
COLOMBO'S ON THE RIVER: (no image available)
Located on Truckee River Lane in Downtown Reno, this classic late night hangout was operated by Donny Rowan & Charlene Wells from February 1987 until it was washed down the river in January 1997 by one of the area's largest floods. They had delicious Italian food and an amazing wine selection. They also had some of the finest entertainers in the area performing there, like Jonny Golden (mother of area legend, Greg Golden), Corky Bennett and Paul January. Paul's favorite memory is of a night he was asked to play overtime and in walks Don Adams, followed by Don Rickles, followed by Johnny Carson! You could always go there to see who was hanging out, or, if you were a musician like me, you could sit in with whoever was playing at the piano bar. The atmosphere was casual and relaxed…it was always a great time.
What's YOUR favorite defunct Reno restaurant? Tell us about it on FaceBook!

ALAN PARSONS PERFORMED LIVE AT BURNING MAN! READ ABOUT IT HERE!