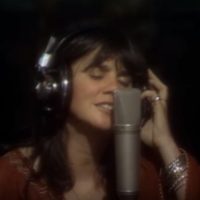 Since Linda Ronstadt is coming to the Pioneer Center, Thursday October the 25th for a show called, A Conversation with Linda, I thought this would be a good time to do a blog, (log, essay.. whatever) about the five best female vocalists ever. Or at lease since I've been on the planet. They only come around once a generation, the women who sing with so much power, clarity and nuance  they can put a chill down your spine.
There used to be a rule in rock radio (and there could still be. The Rock Radio Movers and Shakers don't tell me when the rules change) that you could not play two females back to back. You could not play, say, Janis next to Pat B. Now, I'm not sure anybody pays attention to that anymore and they shouldn't. One of the first couple of LPs I bought, when I was a wee lad, were by Melanie. Does anyone remember Melanie? She eventually had hits with Brand New Key and What Have They Done to My Song, Ma. But I was buying her stuff before that 'cause I liked her sound. At the same time I bought Iron Butterfly and Grand Funk Railroad so, yea, I mixed it up. Apparently, according to the Rock Radio Movers and Shakers, I am an anomaly.  Dudes only listen to dudes and chicks listen to chicks. Yea, bite me.
So, here is a list, according to me so it cannot be argued with, of the 5 best female vocalists since the beginning of time or the early 60's.  About one per generation. There may be a few surprises.
We start with Barbara Streisand. Oh, I think I heard some gasps out there. I didn't say these were going to be classic rock singers. Genres do not apply here. Just the best singers. And if you are looking for Stevie Nicks or Ann Wilson (who is no slouch either,  but not here) or Grace Slick, etc, this list is not the list you are looking for.
Barbara had a big hit with People and pretty much owned Adult Contemporary radio in the 60's and 70's. I'm not going to do the whole biography thing here (that's what Wikipedia is for) but she started out a slightly awkwardly looking Jewish girl from Brooklyn with killer eyes and a killer voice and went on to huge successes on Broadway, the movies, television and of, course recording. She's been an influence to singers for decades. She's just so effortless in her singing. All that power and nuance. There is a series of notes at the end of Evergreen (from her version of A Star Is Born) that just gives you the chills. Evergreen is a key song, in her career, as is Don't Rain On My Parade and Happy Days Are Here Again.
Babs still is recording and occasionally leaving her home in Malibu to do a gig or two.  She is 76 years old and continues to kick ass.  
Evergreen 
The undisputed Queen of Soul, Aretha Franklin. I have to tell you, growing up in the 60's Aretha was always in the background in the sound track in my life. She was a presence on the radio in a way that you just assumed she had always been there. You kind of took her and her immense talent for granted. But the moment I knew she was so much more then I had given her credit for was when she subbed for Pavarotti at the 1998 Grammys. Opera ain't easy and she nailed Nessun Dorma. Aretha was the whole package, she wrote, she played a mean piano and sang like nobody's business. Unfortunately,   Aretha passed away at the age of 76 this last August. 
Key tracks are Respect and her defining cover of Carole King's Natural Woman, Think and the list goes on. I would have posted the video of here Grammy performance from 1998 but it's been taken off the web. But here is another version:
Respect
Linda Ronstadt is a vocal artist that owned rock and pop radio back in the 70's and into the 80's but also crossed over to country and tackled Mexican Mariachi, American Standards and operettas. Her version of the Eagles' Desperado was a huge hit on the Rock and Country and AC charts. She started out with hits on Country radio but after hooking up with producer Peter Asher the hits on the Rock charts just kept coming. For a while, early on, her touring band was the Eagles.
She had a huge range. She could climb multiple  octaves sometimes in the same song. She had great pipes and great material from folks like Warren Zevon, Jackson Browne and the Eagles plus a host of others. It didn't hurt that she was pretty easy on the eyes too.  A couple of key tracks out of so many would be her cover of Roy Orbison's Blue Bayou, Can't Let Go and from the Trio project she did with her friends Emmy Lou Harris and Dolly Parton in 1987, check out Telling Me Lies.
There are so many achievements and accolades that she has had that if you are interested in checking them out it's Wikipedia for the details.
Linda is coming to the Pioneer Theater on October the 25th as a stop, on her tour called a Conversation with Linda where a lot of those achievements and accolades should be on display. Unfortunately Linda will not be singing. She was diagnosed with Parkinson's disease in 2013 leaving her unable to "sing a note". It is a huge loss to music but the show should be entertaining. This is a big screen, multi media presentation of her life which has ben larger than most lives. And she will take questions.
Blue Bayou
Can't Let Go
k .d. lang- I told you there would be surprises. Yup, not as well know as the previous ladies but still deserves being on the list for her pure vocals. Power and range and subtlety.  Examples? Constant Craving and her cover of Roy Orbison's Crying amongst others.  Katheryn Dawn Lang, born in Canada. She started her career in Alberta and by the time the 1988 Olympics came around she was well known enough to get a spot in the closing ceremonies. In 1989 Roy Orbison chose her to sing with him on a duet of Crying. That song won a Grammy and that set on her career path where she has won multiple Grammys. She hasn't recorded a studio album since 2008 and only occasionally tours.  But still, she has some of the best pipes of her generation.
Constant Craving
Crying
And that brings us to the current generations' best female vocalist. Adele. Defined by just great pipes and great material. Yes, lots of broken romance songs. So much so she is parodied on SNL every time she releases a new album. So much angst for one person but back in the day she would have been called a torch singer. And angst sells. She is one of the most commercially successful artists there is. She's only had 3 albums in the last 10 years. She's got more living to do. That being said, she's won just about every award a singer / song writer can receive. Singing like that can be hard on the vocal cords. She had to cancel dates on a tour due to vocal cord issues and then she underwent surgery to correct those issues and came back as strong as ever except without that little bit of huskiness that her vocals had before. It doesn't look like she is ever going to do big tours due to the fragileness of those cords. But what great vocal cords they are. Key tracks, Rolling In The Deep and Rumor has it.
Rolling In The Deep
So, there you have it. My list of the 5 best female vocalists. There are ALWAYS disagreements when you are talking about the best of anything lists and some people are not going to agree with this. That's the fun part. Now it's your turn list your favorites on the Facebook page.  
Join the discussion on Facebook