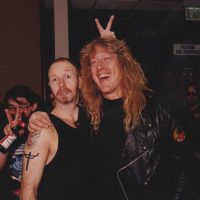 I was a very dark day when unfortunate circumstances led to the suicide pact of two young Sparks men. A local Attorney (on behalf of the families) had decided to sue Judas Priest, claiming the band's music had encouraged that to happen. In one fell swoop, as ludicrous as the premise was, the music went on trial. While "rock/metal" acts like Van Halen, Quiet Riot, Joan Jett, Def Leppard, Motley Crue and Judas Priest's records were flying off the shelves of record stores, this action resulted in hundreds of radio stations nationwide to avoid playing hard rock acts on the air.
KOZZ's Max Volume wound up in the middle of all this, and he was targeted by hate groups, religious zealots and right wing nut jobs. All because KOZZ was the only radio station in Northern Nevada that had ever played Judas Priest. Local TV news crews would pounce on him when he arrived at the KOZZ studios with microphones out and cameras rolling. "Max Volume, are you going to play any Judas Priest on your show tonight?" and "Max Volume are you going to play that music that's killing kids?" Although he had many offers to do radio in many cities, Max Volume chose to stay in Reno until the trial was over.
The entire band came to Reno, went to court and the case was dismissed and thrown out of court. During the trial Max and Randy Webb (a.k.a. "Skip Da Groove) spent a lot of time with the band. Golf outings. Trips to Tahoe. Breakfast, Lunch and Dinner, all joining together to face down the charges against them. Lifelong friendships were made. 
Max had Rob Halford (vocalist; Judas Priest) on the show, and the two shared thoughts and stories. Hear the entire interview here: 
 See Judas Priest and Deep Purple on Sunday Sept. 30th at the Toyota Ampitheater. Get your tix HERE