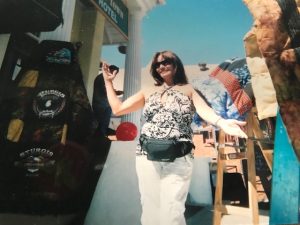 KOZZ's Pam Farris selling her biker crafts @ Sturgis 2006
Jim McClain has been KOZZ's Biker connection for years now. Will Pam Farris become the "new biker chick?"
I am super excited to be part of 105.7 KOZZ's lineup filling the 7pm- midnight time slot as McClain has semi-retired. McClain will continue to produce The Biker Minute on KOZZ and attend biker events. I am not a Biker Chick. Can't ride a cycle, but I can straddle! I've actually been part of the biker community in a happenstance way, and like McClain I've made the pilgrimage to Sturgis.
Sturgis Bike Rally 2018 runs from August 3rd to August 11th this year.  Been there done that while receiving 3 marriage proposals in one night and pocketing $5,000. WTF??!!
I have created quilts for years and sold them at craft fairs. In Squaw Valley I met an artist named Linda Kottke who saw my quilts and came up with the idea for Custom Designer Biker Quilts. A few weeks later a large box arrived at my door containing 60 Sturgis Biker T-shirts. Linda lives in Lead, South Dakota, renting out rooms in her various homes for the rally.
 The first step was to create a prototype and make business cards.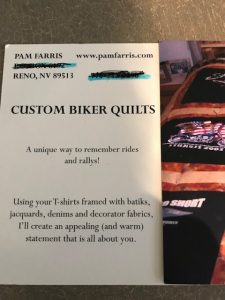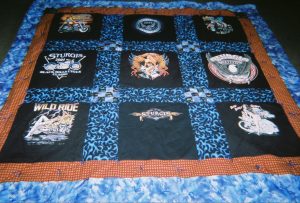 So now the truth comes out! At the time I was working middays at KOZZ and Jim McClain was my direct supervisor. He liked my quilts too and allowed me to design, play with fabrics and begin the process while I was on the air rocking with you! McClain did put his foot down and would not allow me to bring my sewing machine into the station.  McClain actually bought one of my first quilts.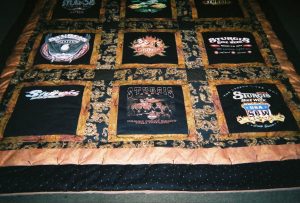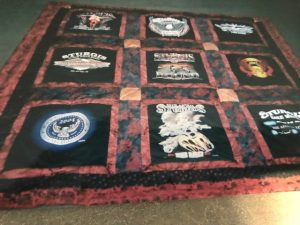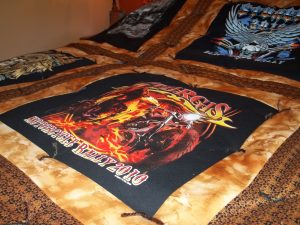 I spent a good year creating my custom biker quilts.  The plan was to make them, ship them to Linda, and she would sell them for me while taking a commission on her sales. Well life happens and the man I was living with announced he was going to a "boys week" in Southern California and I wasn't invited. Soooo I told him "I'm Going to Sturgis!" I packed my car with 10 quilts, fabric, and my sewing machine. I also brought my computer, mixing board, amp and microphones in case I needed to record audio for the station or my clients. I was off to Sturgis 2006!
My friend Linda found a space for me to sell my wares that was at a strategic location in Lead (which is 17 miles from Sturgis, or as I called it Ground Zero) in front of a hotel. The adventure had begun kickin' it at Linda's place, camping out in her large basement with her husband Al, as the house was occupied by a surgeon, a lawyer, 2 Marines and a gas distributor.  We couldn't be in a better space with all the testosterone around. The first bike or two came through around 5 in the morning. The sound would increase to a loud roar that lasted until 11pm. The truth is I was intimidated.  I did not drive my car. I hung out in Lead which had plenty of action within a one mile stretch. Bars galore, good food and really nice men! A biker from Incline Village actually followed me, (I had stalkers in Sturgis!)asking my friend Linda for permission to take me for a ride. Of course I didn't own leathers, I wore a skirt and hopped on his Harley. Ted Nugent, Sammy Hagar and Nickelback were rocking that year but I didn't attend. I was selling my quilts at $500 each for bikers to take home to place in their Man Caves.  I sold out in no time and my reputation as the "biker quilt chick" was getting around.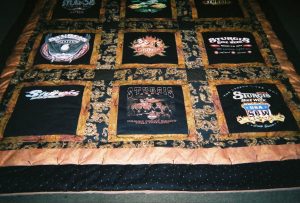 After I sold all my quilts Al took me to Sturgis. Insane. Tattoo shops, bars, t-shirt booths, wet t-shirt contests and lots of half naked women. Al made a point…too many parents with kids in strollers wearing "My Daddy Took Me To Sturgis" t-shirts. Al was a Vietnam Vet, looked around and said, "That's just wrong." Pam Farris in Sturgis didn't mix too well though I made a great stash of cash. I got a headache from the heat, the noise, and was ready to hang in Deadwood or Lead. Sturgis was a true experience. Coincidentally, Jim McClain also bought the last Biker Quilt I ever made. I made a custom biker baby quilt for Shane Whitecloud my coworker on Rock 104.5.
I still have a small stash of biker t-shirts but my motivation dissappeared. I would love to visit Sturgis again someday. It's a different sort of Burning Man. McClain and I go way back so I am proud to slip into the space he left here at KOZZ, though he can leave his Biker Boots on. Rocking Reno Monday through Friday 7 till Midnight is a rush. 
Hey anybody wanna give me a ride?
Speaking of "bikes"… have you seen the new "Lvewire" electric Harley? CLICK HERE
!