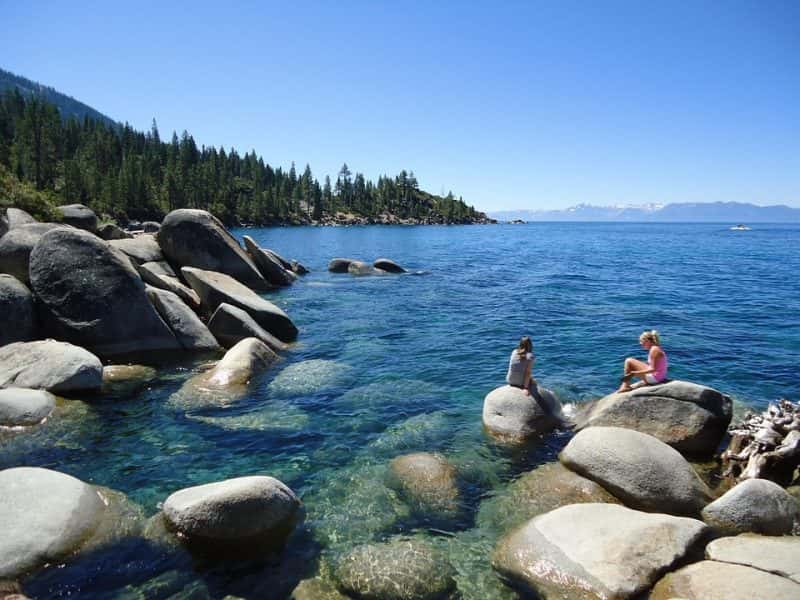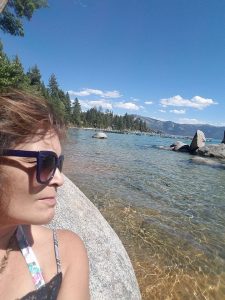 Yes the thermometer shows It's Hot! Fortunately, just about a 45 minute drive away Lake Tahoe is one of the best places to simply soak rays, congregate with outdoor lovers just like you and commune with nature.
Lake Tahoe simply has some of the best beaches in the world and there's a beach that's just your style.
Sand Harbor  Just south of Incline Village on Hwy 28, Sand Harbor is regularly rated by locals and visitors alike as the most beautiful beach at Lake Tahoe. Pristine water and picturesque boulders make for memories and Sand Harbor is also the home of The Lake Tahoe Shakespeare Festival.
D.L Bliss State Park On the West Shore near Tahoma a quieter retreat
Emerald Bay One of the most beautiful spots on the planet on Hwy 89 on the West Shore. Visit Vikingsholm for a trip back in time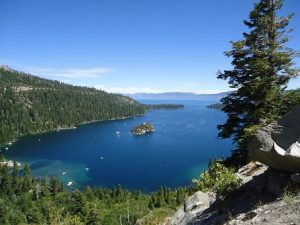 Camp Richardson Huge family resort with activities to keep everyone busy
Zephyr Cove Another huge family resort, boat tours, horseback rides and crowds.
Secret Cove/Harbor About 3 miles south of Sand Harbor there are a few paths that lead to some beach hideaways that are also "Clothing Optional."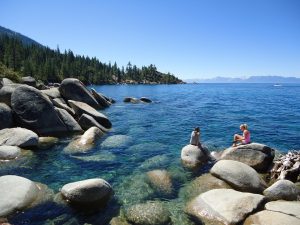 Thanks to Jordan Rane from an article on CNN Travel for his above top 6. But really, is there a bad beach setting at Lake Tahoe?
As I was growing up my dad was an original mountain man. Our family was always exploring every nook and cranny from the foothills to Lake Tahoe. I remember my heart would skip a beat when I learned we would be headed to Tahoe. My parents would always take me to Pope Beach or Camp Richardson, a place where years ago reports were rampant about pollution and loss of clarity of Lake Tahoe. South Lake Tahoe beaches were over populated and even dirty. Of course environmental efforts have made an impact on making these beaches more pleasurable today. The above beaches are all sweet but the crowds take over and parking can be a real hassle. So, here's a few of…
Pam's Lake Tahoe Beach Stash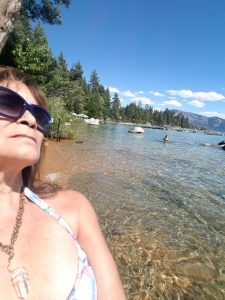 Speedboat Beach  Just west of Stateline on the north shore is Speedboat Ave. Following the road to the end. There's plenty of signs, parking and few crowds. Big boulders make this a great getaway.
Moondune Beach  On the north shore just west of Safeway in Kings Beach. A little schlepping from parking on Hwy 28, but a great spot.
National Avenue Beach  In Tahoe Vista at National Avenue. It's getting more popular with paddleboat, jetski, and a boat ramp. Plenty of parking simply an easy beach to get to.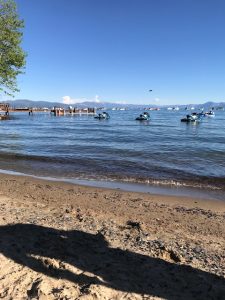 Skunk Harbor One of the best spots on the Lake and popular to get to by boat. Going there by boat? Get there early. Parking is available on Hwy 28 and accessible by a mile long path down to the lake.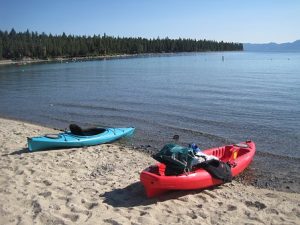 Hurricane Bay Along the west shore on Hwy 89 just a few miles south of Sunnyside. Just pick a spot and chill.
Planning on setting up your umbrella and turning off your phone for awhile? Don't bring your dog! Yes, that's exactly what I said, Lake Tahoe is not really dog friendly. If you bring your dog to almost all of the above mentioned beaches you could end up with a $250 fine and a Notice to Appear, yes you have to appear in front of the judge. This is a pricey problem and could cost you lost time at work for the court appearance.
So use some resources available to find if Fido can frolic at Tahoe with you: www.dogtrekker.com, bringfido.com, or tahoedog.com.
See you at the Lake!