Artown is full of events and activities for every age and whatever your heart's desire throughout the month of July but only one event literally goes to the dogs.
Art Paws is Reno's premier pet event of the year!  Bring your best friend, Sunday, July 15th, 10am-5pm at McKinley Arts & Culture Center Park.
  As Artown's only  "bring your dog day" Art Paws paints a pet-friendly picture of downtown Reno!  A fun and unique art themed, canine-friendly, community festival, this free event celebrates canine culture by combining the arts with our animals.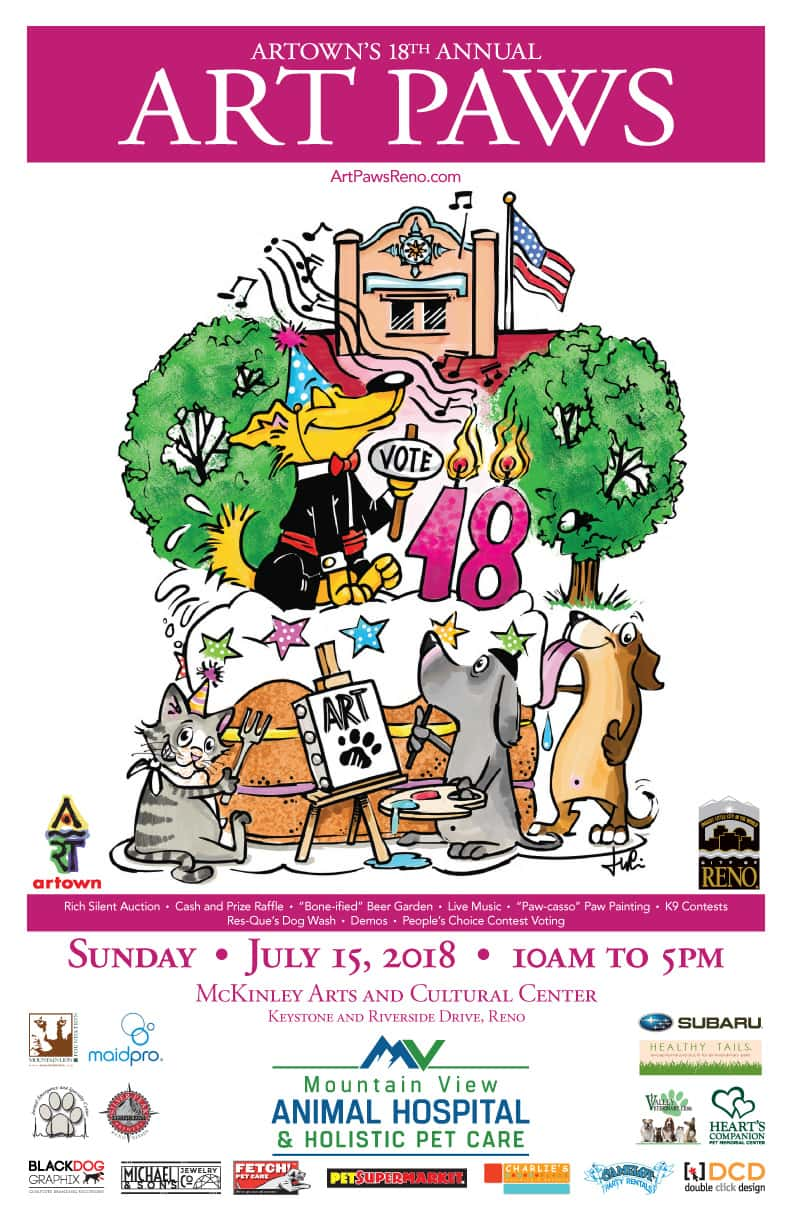 I am ecstatic to represent 105.7 KOZZ and emcee this year's event along with Terri Russell from KOLO TV. Disco Velveeta will provide more entertainment and music from Brother Dan Palmer.
At Art Paws, stroll down to McKinley Arts and Cultural Center Park, let your pup frolic along the Truckee River, get their paws read by pet psychics, and admire their own animal art at the FREE Paw Painting booth. Local artists display fine jewelry to crystal sculptures, to oils and watercolors and portraits–many with an animal theme.  Pet themed jewelry for you and custom collars for Fido are just a few of the most popular aspects of Art Paws.  Watch the Reno Police K9 officer demonstration or sign Fido up for one of the "paw"pular canine contests.  Reach out to your inner puppy with the help of a pet psychic.
Michelle McHardy is top dog at Art Paws working non stop to present this fun event. I had the pleasure of hooking up with Michelle at an ArtPaws Fundraiser at Ben's Fine Wine and Spirits where $5,000 was raised on June 29th. For a full schedule of events for you and your best friend visit www.ArtPawsReno.com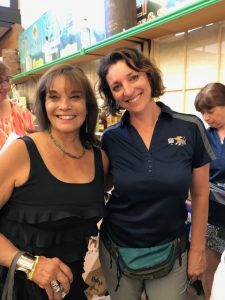 Don't forget to visit all of the local non-profit animal organizations and vote for your favorite to win the "People's Choice Award" and fetch a third of the proceeds from Art Paws.  Satisfy your hunger with treats from their specialty food trucks and check out the "bone"ified beer garden, sponsored by Silver Peak Restaurant and Brewery, with more than 20 local craft brews to sample.   The rich silent auction and hourly raffles make this event not just about the animals!  Anyway, you look at it, Art Paws is a "Dog Gone Good Time"!
Proceeds from Art Paws will benefit 4 local organizations. New for 2018, Art Paws is partnering with "The Biggest Little Dog Park", so they will receive one portion for maintenance and upkeep of the park. One portion goes to the Underdog winner; US Wolf Refuge.
I'll see you on Sunday, July 15 and I'll bring my pup Missy along too.!