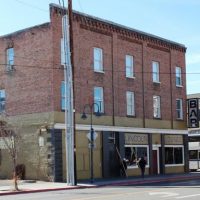 Soul Night at the Lincoln Lounge was one of those themed bar nights that makes you remember all the old music you thought you didn't know. A little "divey" on the appearance and the walk from the parking lot, you were relieved that you made it in. 
The last Soul Night EVER was Friday, June 29th and I could not believe that there was a line outside and around the corner. I almost wasn't able to go in because the line looked like it was going to take an hour to get through. Luckily, the manager was a classmate of mine and I was able to go in through the back door onto the patio. 
When the patio is open, it screams Summer and party time. The music on Soul Nights was always good and was always loud. The bartenders were always friendly and had heavy pours.

You would see regulars on the slow nights and almost everyone and their mom, literally, on Soul Nights. If you were to go to Lincoln Lounge on any other Friday compared to Soul Night, the bar would be unrecognizable due to the emptiness. 
It's going to be sad to see the end of the 4th Street staple but we're excited to see what the new owners will do to the iconic corner building across from Louis Basque Corner.