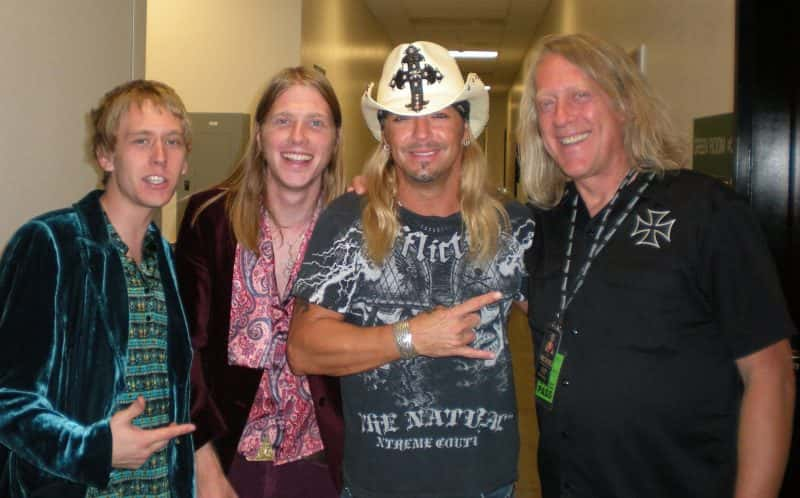 Poison hits the Grand Theater inside the Grand Sierra Resort this Sunday (5/20) with their pals Cheap Trick for a night of high energy rock music and big fun. KOZZ was one of the first radio stations in America to play Poison"s debut release "Look What The Cat Dragged In" back in August of 1986. Big hair, big amps and big drums. Poison brought rock anthems and power ballads to rock radio and Reno Nevada would form a bond with the band that would go on to have some historic moments at their shows. Max Volume had Bret Michaels on the "Work Force Free Ride" on Weds and Thurs to catch up and take a walk down memory lane. Hear the sordid tale of Led Zeppelin's Jimmy Page and Whitesnake's David Coverdale joining Poison onstage at the Lawlor Events Center on May 15th 1991 to a sold out crowd of Reno rockers there to see The Bulletboys, Slaughter and headliners Poison. 
To get tix to join the "Nothing But A Good Time Tour 2018" Click HERE
Bret has been very busy with several projects: 
Bret's Classic Acoustic Songs and Stories will launch this fall and fans can get a sneak peek at http://bretmichaels.com/ today. This is also tied into the tour and links to purchase tickets will be included in all the social links being shared by both Live Nation and Bret.
Bret's Life Rocks Foundation, which is s unique dollar in dollar out foundation, gives back to multiple causes including diabetes research, wounded soldiers, and animals in need.  Here is a link to a story that was just published about Bret (and Life Rocks) sending a girl from San Antonio to camp this summer…  Bret Michaels offers to help San Antonio girl living with Type 1 diabetes
Bret is into the 2nd year of his sold-out Party Starts Now solo tour, which has brought record breaking numbers to outdoor sheds festivals and arenas.
Bret's current single, "Jorja Bleu," written for and named after his youngest daughter. The video for the song received over a million views in just days from its release: 
Bret has the largest artist influenced hotel suite ever built. It is located at the Hard Rock Riviera Maya, boasts two levels, over 9,000 square feet and tons of Bret's historic memorabilia spanning his  career. The suite has been named Mexico's leading hotel suite and has won several awards for design and it's luxurious amenities.