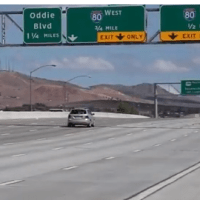 So, I was trippin' around my news feed the other day and a friend of mine was going off on a rant about how impatient and aggressive people are on the roads in Reno lately. I nearly cracked my phone I hit the like button so hard! I'm guessing you might be able to relate, in one way or another, that is. The roads in Reno have definitely changed so why not try to make it for the better?!  A complete Spaghetti Bowl revamp should do the trick, but we are stuck with the one we've got for now. 
I travel from the Northwest part of town, to Plumb Lane 4 times a day, usually at peak drive time. Let me tell you, sometimes I have to check myself. I start getting heated… I have to be somewhere- in fact, a lot of somewhere's everyday and I am trying to be on time to my destination just like everyone else. Frankly, I start getting impatient, thinking I am more important than anyone else. I get indignant and the next thing I know I am yelling at my steering wheel and acting like an ass, yet calling someone else an ass*&le. Nobody wins here and honestly I don't like myself in that light.
My day, my time and my schedule are as important to me as yours are to you. Everyone else on the road is trying to get to their loved ones in one piece. Last Friday, after I had seen this post and had been thinking about it a while, I heard about the multi car accident on I-80.
According to the article from KOLO-TV.com, "Trooper Matt McLaughlin says the crash was caused by the driver of a passenger car making an unsafe move; the truck driver flipped while trying to avoid that car and several other crashes were chain reactions." What a giant surprise right? NO! So lucky nobody died, but man, everyone… and I mean EVERYONE got home late that day.
Don't be that guy, or should I say "one of those guys", that fly past you waiting your turn in the merge lane… only to cut into traffic from both sides at the very last minute. This obviously creates a giant bottleneck and the more we bottleneck, the more pissed off we get. Pissed off people make very bad decisions, like getting in the way of a semi. Those "California drivers" we have moving into our state have a little more savvy when it comes to getting around in traffic and perhaps we should take notes. It's simple; let a car in front of you, the next guy does the same thing and nobody has to come to a complete stop, nobody gets mad and everyone gets home safe. 
Zip It UP Reno! 
If you want the latest traffic information, tune in to our traffic reporters on all 6 Lotus Radio stations in Reno: KOZZ 105.7 FM, KDOT 104.5FM, KTHX 100.1FM, KUUB 94.5FM, KHIT 1450AM, KPLY 630AM. In the mornings its Kenny B from 6-10 am and in the afternoons its Rick Metz (The Saxman) from 3-7:00 pm. 
TALK BACK WITH US ON FACEBOOK!