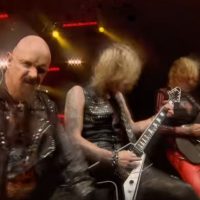 Judas Priest has a long history in the Silver State, from multiple shows to defending themselves in the face of a double-suicide and allegations of backward masking in their lyrics to the song 'Better By You, Better Than Me' (a cover song, by the way).
The band phoned in to the Local's Only Morning Show recently and spoke with Jave at length about their history in Reno (they lived here for about 4 months during the trial), new album 'Firepower', health and sickness and the likely hood of Glenn Tipton joining the band onstage when they play in Las Vegas on Saturday the 21st of April.
Plus, enjoy some pix from the archive, including from the trial here and photos from their show back in 2005 at the GSR (formerly Reno Hilton outdoor amphitheater). Thanks to Dave Foto for the great live shots!