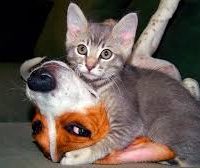 Just in case you didn't know, (and I bet you didn't ;-)) today is International Cat Day! Don't fret, you still have time to celebrate, as I will when I get home. I have been known as the "Crazy Cat Lady" around the radio station, just because I had close to 13 cats at one point in time. Now that I say that I guess I am the CraZy Cat Lady after all. Ive always fancied myself as a Cat Person. Then, I got myself a puppy, and my whole perception changed about all that.  Now I guess you could call me Bi-Petual. 
Today I did learn that an estimated 500 million cats are thought to be frolicking in neighbor's gardens across the world. And that's great, because owning a cat has been shown to improve mental health and to relieve stress, anxiety and depression. Fact: you can take off for the weekend, leave your cat a bowl of food and a clean cat box (CLEAN YOUR CATBOX EVERY DAY) and everything will be fine. Try that with a Dog. 
(CraZy Cat Lady)
So roll out the red carpet and the catnip for your furry feline friend, because International Cat Day is that one day a year when black cats bring good luck and cat eye sunglasses match your entire wardrobe.
Love cats? Support local animals with the Nevada Humane Society's "Walk For Animals"