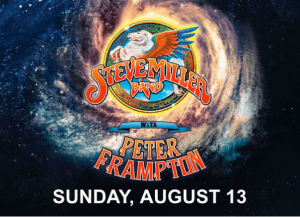 I can't help but reflect on one of my first and best concert experiences while I fill-in for Jave Patterson this week. All week I'm giving away tickets to see The Steve Miller Band and Peter Frampton at Ironstone Amphitheater in Murphy's, California. This jolts my memory banks back to a time before I was old enough to even drive. Do you have a favorite concert experience that was a certified turning point in your life whether it was good or bad?
Yes, I've seen Steve Miller and Frampton several times. They've toured together and played at football stadiums and arenas worldwide. The current tour drew them together out of mutual respect for each other and their love of the blues. Steve Miller specifically leans toward blues influences like Muddy Waters and Otis Rush, and I've heard a surprise is thrown in when Frampton takes the stage midway thru Steve Miller's set.
Flashback to my unlikely surprise that started once a girlfriend and I decided to go to a concert. We had been to maybe one or two concerts, but we were only around 15 years old and had to either hitch a ride with an older brother or sister or take the bus if we wanted to go somewhere. The Steve Miller Band was headlining at Sacramento Memorial Auditorium with openers Humble Pie and Slade and hell yeah(!) this sounded like where we wanted to be.
Buying tickets back in the day was a challenge….buy tickets by phone and using a credit card, yeah right! Somehow we found a ride to the box office in downtown Sacramento and meekly said we wanted to buy a pair of tickets to Steve Miller. The ticket agent said it was nearly sold out with only a few seats left in the last row. Our shoulders were really sagging on this news and just as we began to turn away another ticket seller yelled, "wait, remember we have those tickets that were supposed to be a radio giveaway that were returned?" The seller we had been talking to motioned us back to his window and asked us if front row center would work for us. Score!!! But then it got even better. Who knows how much we paid for those tickets, maybe $13? We paid and as we were walking away we could not contain our excitement and just HAD to open the envelope to take a look. We were getting into the car by this time and yes, these were front row – center tickets, but stuck to each ticket was another ticket, we had 4 Front Row Center tickets! Double score!
We had to be the happiest 2 young rockers on the block at that moment in time and we got to bring 2 friends too. Patty, Carrie, Mardy and Pam. The concert was everything we could only dream about as we watched Slade, then Humble Pie with Steve Marriot on vocals, a young Peter Frampton on guitar, and Jerry Shirley on drums. I never would have imagined that within 8 years I would become easy friends with Steve and Jerry, and later interviewing Frampton numerous times. The Steve Miller Band was better live than listening to our records at home; Space Cowboy, Baby's Calling Me Home, Quicksilver Girl, and Boz Scaggs with Steve Miller too. It was such a memorable night I can even remember what I was wearing…purple velvet pants and a baby blue embroidered sweater, sorry no rock t-shirt.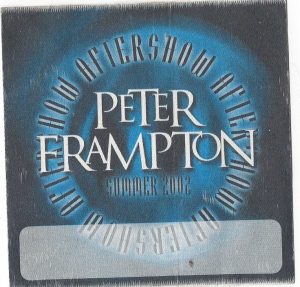 From that first front row experience I was definitely hooked on music consumption and the desire to communicate what I saw onstage to others. Working in radio was only a few short years away. So KOZZ radio pals, listen this week to watch these supreme musicians perform yet again, never missing a beat at Ironstone Amphitheater!