The weekend of June 16th-18th is truly a celebration of the beginning of the summer season. From the Reno Rodeo, The BBQ, Blues and Brews Festival… there are a multitude of things to do.
Father's Day, Sunday, June 18th, is packed into this treasure trove of local happenings.
Who's your Daddy? Like Mothers, we all have a father too. I couldn't help but ponder about all the different dads that are in our lives and in our hearts.
Of course dad's come in all shapes and sizes, some are a part of our everyday lives while others may be absent for a number of reasons.
First of all, as I think about my own father who has been gone for many years, I reflect upon him differently now and from a different perspective as I am adopted. Only recently my attention has turned to the fact that both my parents treated me as if I was their own from Day One. Though I've sought out my biological parents to no avail, there is no question who Mom and Dad were in my life. I have other friends who are also adopted and only recently have I become enlightened to know that it was the SAME with them. They were treated lovingly, no one was treated as "the ugly step child." I am so lucky to have had my adoptive parents! But enough about me!
I thought about the many dad's I work with, play with and love. What makes a great dad? Fortunately my co-workers at KOZZ and Lotus Radio are superb examples. Either coincidentally or the fact that our industry is also a part of the music industry at large, almost all the dads here at Lotus Radio are musicians! But these Reno Dads don't just dabble in music, they are also working musicians. From KOZZ – Jave Patterson, Max Volume, & Alan Bruce have rocked babies and "the house" as well. From KDOT – Shane Whitecloud, Kronik, Just Plain Chuck, and Kenny B have rocked the cradle and rocked the stage! (If I've missed anyone I apologize)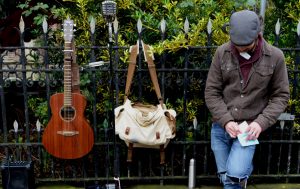 What's more, these dads have all imparted the gift of music onto their sons and daughters, either sharing the stage with Pops or solo. Give it up for the dads that coo sweet lullabies in the beginning, getting small fingers to move around the neck of a large guitar forming chords…and forming a lasting bond inspired by love and the love of music.
CHECK OUT THESE AMAZING NEVADA WATERFALLS!