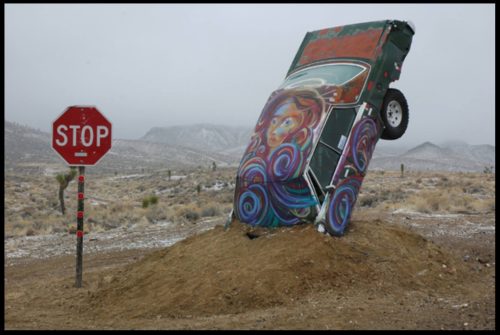 While waiting for my car's oil to be changed, I plowed through a pile of magazines and found the Summer issue of "VIA" (the AAA magazine) and on the cover is "The West's Off Beat Wonders" and pictured is Goldfield's "International Car Forest Of The Last Church." Wow! I know the guy that built that, Chad Sorg!
Many of you are aware of  Reno's NadaDada Motel, which has been described as "a cuttting edge art event where around 100 artists rent rooms at two of the city's vintage hotels and motels and temporarily turn the seedy rooms into art," Maybe you know the name Chad Sorg. He is one of the co founders, and a high profile Reno Artist. When Chad visited Goldfield in 2004 he ended up staying awhile. He fell in love with the town and it's awe inspiring raw subject matter. A ghost town from the by gone mining era that lends itself to visions capturing the futility of man.  
Besides doing a radio show on the local station, Chad met the locals and teamed up with grizzled desert dog Mark Rippie. Rippie owns 80 acres adjacent to Hwy 95 and also owned over 40 cars, trucks and buses. Rippie's dream was to create an artistic array of autos half buried and presented in a surreal fashion. He came up with The Last Church as representation of the last church being inside each of us. Work began in 2002 when Rippie planted his first car. Using his backhoe Chad and Rippie planted cars vertically, upside down or at various angles. Chad took to painting the vehicles and work was completed in 2011. 
Up for a road trip to Goldfield Nevada? You'll find The "International Car Forest Of The Last Church" right off Hwy 95. From the highway you'll only see the School Bus buried at a 45 degree angle popping out of a mound of dirt. Take Crystal Avenue until the gravel gives way to dirt, then it's right there. Great photo fodder and intrigue! It's quite surreal, but so is all of Goldfield. Happy Trails! 
Looking for other enchanting road trips? Click here: Nevada's Scenic Destinations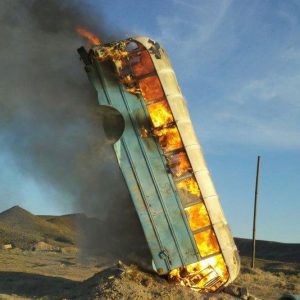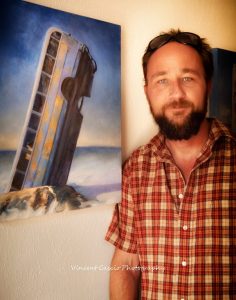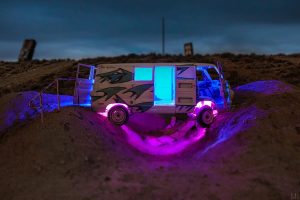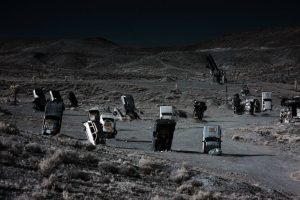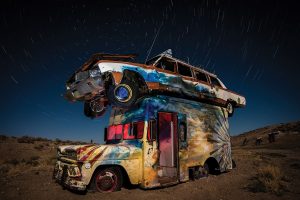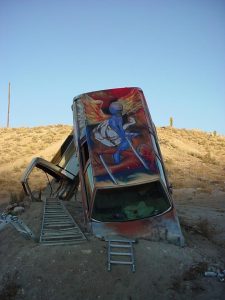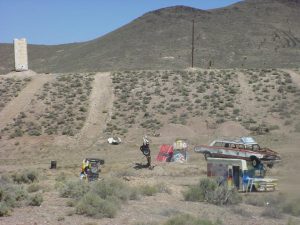 Photo credits: Chad Sorg, Vincent Cascio, Mickey Lambert, Lemon Ad, and The International Car Forest Of The Last Church Facebook Page.