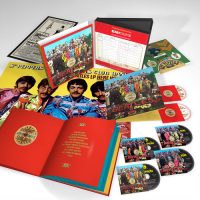 The Beatles have released a suite of lavishly presented 'Sgt. Pepper' Anniversary Edition packages May 26. The album is newly mixed by Giles Martin and Sam Okell in stereo and 5.1 surround audio and expanded with early takes from the studio sessions, including no fewer than 34 previously unreleased recordings. This is the first time Sgt. Pepper's Lonely Hearts Club Band has been remixed and presented with additional session recordings, and it is the first Beatles album to be remixed and expanded since the 2003 release of Let It Be… Naked. 
To create the new stereo and 5.1 surround audio mixes for 'Sgt. Pepper,' producer Giles Martin and mix engineer Sam Okell worked with an expert team of engineers and audio restoration specialists at Abbey Road Studios in London. All of the Anniversary Edition releases include Martin's new stereo mix of the album, which was sourced directly from the original four-track session tapes and guided by the original, Beatles-preferred mono mix produced by his father, George Martin.
 UME/Capitol has produced this 90-minute special in support of The 50th anniversary release of The Beatles Sgt. Pepper's Lonely Hearts Club Band. This exclusive special features a boatload of interview clips from the Fab Four (John Lennon, Paul McCartney, George Harrison, and Ringo Starr) along with the late George Martin, Giles Martin, Roger Waters, Phil Collins and many others interspersed with tracks off the album.
Here, in order (tracks 1-5) is your Sgt Peppers Radio special
Track 1
Track 2
Track 3
Track 4
Track 5