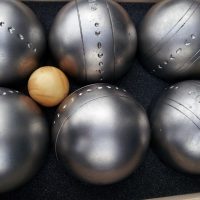 Bundox Bocce, Northern Nevada's only indoor/outdoor bocce event space, is open to the public Thursdays through Sundays inside the Renaissance Reno Downtown Hotel seven days a week for groups of 15 to 1000 people. Bundox Bocce, located in what was used to be the casino floor, is a 22,000-square-foot indoor/outdoor facility complete with seven indoor bocce courts, two regulation length outdoor bocce courts, nine skee-ball machines, a shuffleboard table, ping pong, dart boards and full bar with cool menu items and lots of comfortable seating everywhere. The place also has eight big screen TVs, an outdoor patio with two private event rooms (one comes complete with private bar).
For those of you new to the sport (which originated in Europe) has built a big following stateside, simple is the key. Two teams of one to six people can play on a court at one time with a bocce set consisting of eight large balls and one smaller target ball called the pallino. The team with the most balls closest to the pallino scores, with one point awarded for every ball the scoring team has closer than the opposing team. The game continues until 12 points, or a pre-determined amount, is reached. Bundox Bocce can accommodate 72 players at once. Bundox Bocce is located at One Lake Street, Reno NV, inside the Renaissance Reno Downtown Hotel. 
While you're in the neighborhood, Check out: The Eddy!