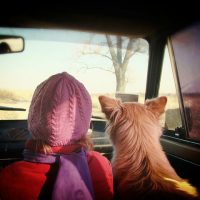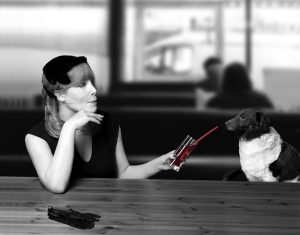 The late Leonard Nimoy has a special place in my memory. In Tahoe City some years back, I was picking up a to-go order at a restaurant with an outdoor deck overlooking the lake. An older couple were quietly dining accompanied by their small dog who was seated in its own chair between them, along with its own plate on the table. I asked the restaurant host, "What's up with the dog?" He replied, "Oh that? That's Leonard Nimoy."
At the time I translated that reply into meaning that Leonard Nimoy received special attention. The visual is forever imprinted in my mind as to this day I have not witnessed anything like it. As the years have passed more establishments tolerate the idea of bringing along Fido for a meal, shopping, or travel. The Dog-Love idea is spreading!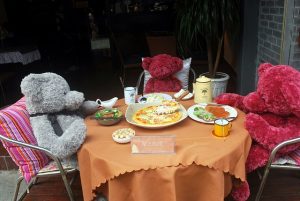 We can show our pets how much we love them with a long walk in the park, a new toy, or a tasty treat. Or if you don't own a pet, think outside the box and donate your time, food, or money to an animal welfare organization. And where can you spend time with your pets in the Reno-Sparks area that are pet-friendly locations?
Great Full Gardens 555 S Virginia Street
Buenos Grill   3892 Mayberry Dr
Old Granite Street Eatery 243 S Sierra Street
Pignic Pub and Patio   235 Flint Street
The Stone House 1907 S Arlington Avenue
Peg's Glorified Ham & Eggs 420 S Sierra Street
4th Street Bistro
All 3 Whispering Vine Locations
But just because a restaurant has an outdoor area doesn't mean your pup is welcome, as I've found a few locations along the Riverwalk in Downtown Reno that have a NO Dog Policy.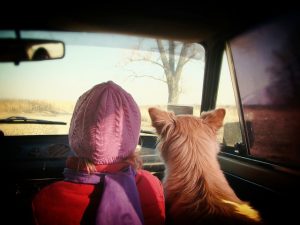 Even a few retail shops will let you bring your dog in to shop with you as long as it's on a leash:
Junkee Clothing Exchange
Home Depot – all locations
Lowes – all locations
Carter Bros Ace Hardware
The SPCA Thrift Store on 4th Street
Recycled Records!
And even Macy's!
Spending the night? The Nugget in Sparks, The Grand Sierra, and the New Renaissance Hotel are all pet-friendly and invite your pet for an overnight stay. 
So how sweet is that? Your Puppy Pal will be incredulously happy! Pup Love!
Check Out These Local Dive Motels For Some Interesting Reno History!

JOIN US FOR SOME FACEBOOK LOVE!