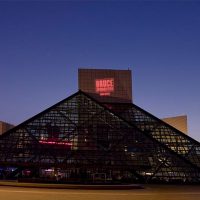 You've been able to see the Oscars, the Grammys, the Emmys, the Tonys, the ACM awards, the CMT awards, even the MTV "People's Choice Awards" on TV. At the drop of a hat, there's an awards show on. This year's 2017 Rock and Roll Hall of Fame Induction Ceremony once again will not be televised. 
You'd think that the ceremony, being held at the Barclays Center in Brooklyn, New York would be a huge television event. With the induction of The Electric Light Orchestra, Joan Baez, Journey, Pearl Jam, Tupac Shakur, Yes and Nile Rodgers, the ceremony promises to be an amazing event. 
Will Steve Perry perform with Journey? Will Jon Anderson, Rick Wakeman, Bill Bruford and all the other members of Yes perform together? Will ELO perform as a group or will it be the Jeff Lynne show? Will Joan Baez sing "Diamonds and Rust" backed up by Judas Priest? How did Pearl Jam get in before the Red Hot Chili Peppers?
We'll all have to wait until April 29th to see the broadcast on HBO (which is exclusionary because it's a cable channel only available to select subscribers). Why not public broadcast TV like CBS, NBC, ABC or Fox? Why does Rock N' Roll take a backseat to every other award show on earth? Apparently it's a party for a select few. This writer blames the ineptitude of the Rock and Roll Hall of Fame for it's lack of vision and foresight for the "Greatest Good, For The Greatest Number."
Rock N' Roll is a true "American Treasure"….
For info on live music in the Reno/ Tahoe area Click here: KOZZ Concert Page