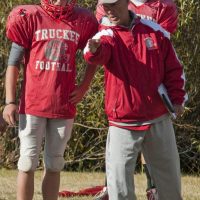 Truckee California's small tight knit community is in shock and hurting today with the news of the death of beloved Truckee High Football Coach Robert Shaffer. Grief and sorrow have gripped the town. Robert Shaffer was killed when hit head on by a truck on Highway 89 just south of Cold Creek Campground in Sierra County Saturday Night. Coach Shaffer was driving with his Wife Lisa and Son Patrick in his 2006 Toyota Corolla when David Slaughter, 54, of Sacramento, was driving his 1989 Ford F250 southbound and allowed his truck to cross into the northbound lane. The two vehicles crashed head on. Coach Shaffer died at the scene. His Wife Lisa and Son Patrick suffered minor to moderate injuries, as well as David Slaughter.
Coach Shaffer led Truckee High School Wolverines Football to 9 state football titles, including 4-straight state championships. Shaffer was inducted into the Nevada Interscholastic Activities Association Hall of Fame in 2014 after coaching football at Truckee for 18 years. Shaffer began his run as Coach in 1995 and retired in 2013, finishing with an overall record of 170-32. The Wolverines under Shaffer won 14 league titles, nine state titles (four consecutive) and won 41 straight games from 2008-2012. Coach Shaffer's 170 wins are fourth in state history and the nine state titles are a tie for second.
Coach Shaffer was a pillar of the community and his influence to the youth will live on forever. He turned Boys into Men. Legends like Coach Shaffer will never die. KOZZ sends our sympathy and condolences to his family, friends and the people of Truckee. 
Viewing this story on Social Media? Visit our website here: KOZZ Online