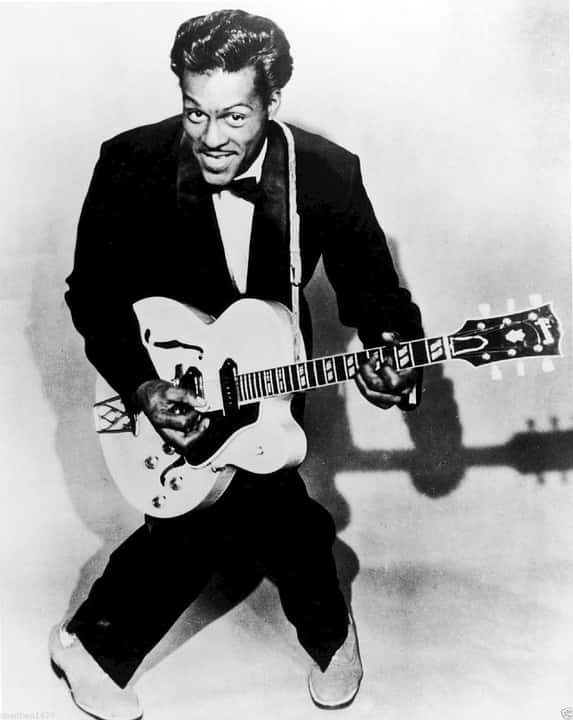 Charles Edward Anderson "Chuck" Berry was born in St. Louis Missouri on Oct. 18th in 1926. He rose to prominence in the heyday of Rock N' Roll's birth in the 1950's. His songs are standards and must do's for all rock musicians. His riffs (like those of Robert Johnson's) became the blueprint of the majority of rock songs to this day. The blues based E-A-B progression became a standard for guitar based writing. Songs like "Johnny B Goode," "Maybellene," "Roll Over Beethoven" and "Come On" have been covered by everyone from the Beatles and the Stones to Peter Tosh, The Grateful Dead, AC/DC and Judas Priest. 
He was one of the first African American Men to have a #1 Billboard Hit and a million selling (platinum) record with Chess Records "Maybellene." He enjoyed great success with a long list of hits and a very lucrative touring  business. He also served time in prison for offenses under the Mann Act and income tax evasion.  He was one of the first inductees to the Rock N' Roll Hall of Fame. At the request of then President Jimmy Carter, he performed at the White House in 1979.
When he toured during the 1980's, he carried only his Gibson guitar, and hired local talent to play as his back up bands, because (as he put it) "anybody who is any kind of musician knows all my songs." He regularly played 70 shows a year up until the early 2000's ( his last big tour was 2008 at 81 years of age). He was one of the Fathers of Rock N' Roll. 
A new album "Chuck" will be released this year which he recorded with his children. It's the first new album from him in 38 years. 
Maybe he could be remembered with a tour like Experience Hendrix