The other day I went shopping for shoes. I wanted either a pair of Wallabys or Beatle Boots. No such luck. 5 shoe stores, and what you get in Reno is; several variations of sneakers, work boots, hiking boots, or dress shoes. Being that I work with a whole building full of fashionistas, I went around and got some pics of shoes, and asked where can I go in Reno to get my jeans embroidered, and buy shoes? Have you heard the news? Can't afford no shoes! One time at band camp a wise soul told me "Brown Shoes Don't Make It, Quit School, Why Fake It." I looked at him and said "TV dinners by the pool, I'm so glad I finished school!" The main thing is, shoes should look nice, but also be comfortable and give you the support you need so your back doesn't go to hell. 
Classic Ladies Wing Tip: The shoe worn by a Woman of power who has worked hard to be the manifest of her own destiny…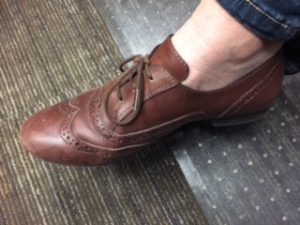 Skechers "half moon bottom, I feel seasick shoes" Soccer Mom shoe for those on the go…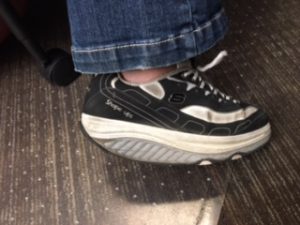 Classic Ladies Sandals: A woman who enjoys a spa day and treating herself to the finer things….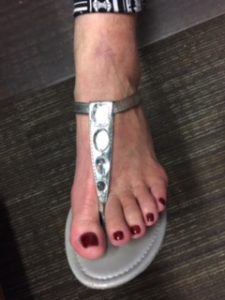 Classic Men's Black Dress Shoes with stylish argyle socks: The shoes of a man with a plan…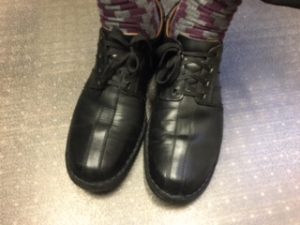 Converse flat sole basketball shoe: choice of slackers and gamers. This guy often puts his fingers on the menu to try and expand the image…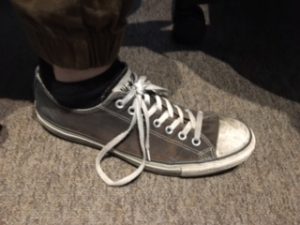 Red Wing Work Boot: The shoe of a Man who might have to climb the roof or ride a Snowcat to the transmitter at the drop of a hat…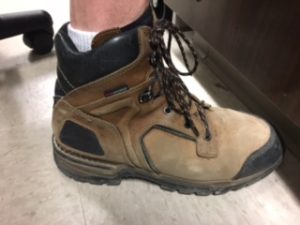 Skate Shoe: Chill vibes and mellow moods! Bring it in a pair of Vans or DC's. Bro! Where's the sweet tasty jams tonight?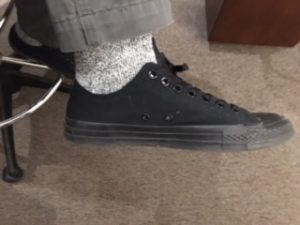 Ladies Flip Flops: I'm on the beach of my mind, and my mind is in Summer…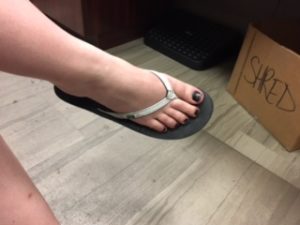 New Balance "Dad" Shoes: Strong, durable and good for your back and posture. Dependable just like Dad.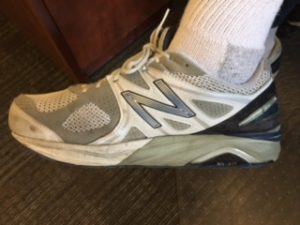 Western Cowboy Boot: Ariat makes a boot that will last forever, just like this guy's truck (where he keeps a couple of guns and rifles).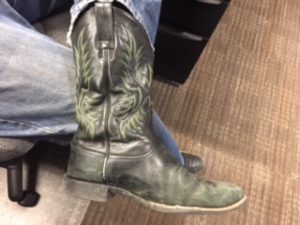 Rico Suave Slip On Clog: I make my own fashion. I set the trends. You'll gawk, and then want a pair.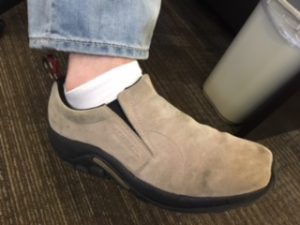 Loud ass Nike "I'm going fast sitting still shoes." Like a Labrador, this guy says "throw me the ball." During the time others will argue and say "This ball, this field, right now?" our Labrador has already scored 3 touchdowns…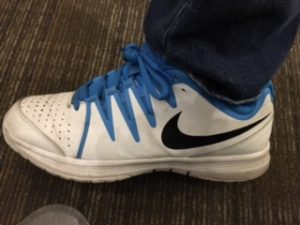 For more shopping tips visit: Pammy's World