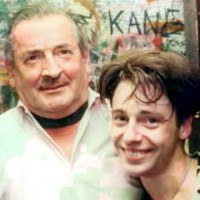 Reno has such a great musical heritage. This video commemorates of of the coolest music moguls of our time; Chesley Millikin. Chesley was a one-of-a-kind Irishman who started his career in the music business around 1966. The first band of prominence he managed was "Kaleidoscope", which featured a young David Lindley. 
He was offered and accepted a job in 1967 as executive vice-president for Epic Records in London. This was most likely when he became associated socially with the Rolling Stones. He tried to bring the Stones to Epic as their contract with London Records expired. Epic passed, saying they were too old and Ahmet Ertugegun of Atlantic Records gave the Stones their own label. 
He became friends with Mick Jagger and became particularly close with Charlie Watts and Sam Cutler. In 1968, Chesley became personal manager for British rocker, Terry Reid. Terry is somewhat infamous for turning Jimmy Page down when asked to be lead singer for Led Zeppelin. Terry suggested Page contact Robert Plant instead. Through his connections with Mick and Charlie, Chesley was able to get Terry on the '69 American Tour with the Stones. It was a triple bill as I recall with the Stones, Terry Reid, and B.B. King. When Terry's career started falling apart in the early 70's due to a drug problem Chesley left to road manage the New Riders of the Purple Sage. 
This is when he started working with Sam Cutler as a member of the Out of Town Tours management team in San Raphael, California. Although Out of Town booked many acts, they primarily worked for the Grateful Dead whose office was just up the street. In '76, Chesley moved over to the Dead's offices.
 At some point in the late 70's, he moved on to Austin, Texas to manage Manor Downs Racetrack with Frances Carr. Frances was a wealthy heiress who had previously worked with Chesley and Sam and the Grateful Dead. It was during the Austin years (early 80's) he and Frances became aware of Stevie Ray Vaughan and took on his career under Classic Management. 
He landed Stevie Ray Vaughan the session work on David Bowie's "Lest's Dance" album after Vaughan met Bowie at the 1982 Montreux Jazz Festival in Switzerland. After SRV's performance, Bowie was so impressed that he later said, "[He] completely floored me. I probably hadn't been so gung-ho about a guitar player since seeing Jeff Beck with his band the Tridents." (Note: He's referring to Beck's pre-Yardbirds blues band.) Vaughan plays lead guitar on several tracks, including two of the album's many mega-hits ("Let's Dance" and "China Girl"), but guitar-wise, the song that truly kicks collective ass is the less-famous "Cat People (Putting Out the Fire)." It's also got the album's healthiest serving of SRV; he solos in the middle, adds Albert King-style bends throughout and then solos near the end of the song. At this point Epic released SRV's debut album "Texas Flood" and the rest is history. 
Just before he passed, Chesley signed Austin Texas guitar virtuoso Widgeon Holland at age 17, who toured extensively. One day Widgeon arrived in Reno Nevada and made friends with Max Volume, local Dj and guitarist. At some point Widgeon gave Max Chesley's Dodge Ram Van (which was the Double Trouble Express). This Van became Max's Son's first car. 
For more info on Reno's music scene: KOZZ's Concerts & Events Page