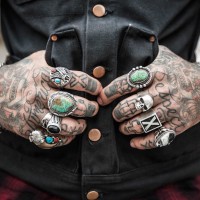 Hey there! Have you been terribly and terminally late in finding your sweetheart a Valentine gift that is clever, fun and uniquely Nevada? You want perfect, in a deeply personal way, that only you could know about your love? Well, me too lol.
I can give you a hint, if you'd like? Being a native Nevadan, I have always prefered silver jewelry, specifically silver and turquoise, Native American art. I grew up a stone's throw from the Ponderosa Ranch and in the 70's, these unique pieces were not hard to come by.
Most Navajo silversmiths come from a long line of Native American jewelry artists in their family, as this is a time honored trade passed down from generation to generation. Many of the artists today, both men and women, produce Native American jewelry that is better classified as art, worthy of display in museums. Silver jewelry was used as barter on the Reservation where money was practically non-existent. Traders took silver and turquoise jewelry as collateral without giving a specific value to the piece. Any pawn unclaimed after an agreed period of time was considered "dead" and the trader could sell it. So began a new and very lucrative way of life for the Native Americans.
I personally adore this style of jewelry, and have worn many different pieces similar to this one…
And FYI, you can find many very cool items for both men and women at places all around town, including Michael & Sons and the Buy Nevada First store, near Burlington Coat Factor, across from the Atlantis on Virginia. If I have stuck a nerve and you are feeling inspired to get something a little more unique for your love, you can find great items HERE.
Now, what if you don't have the budget for, nor wear much jewelry? No worries there. How about a nice beer or spirit? It seems like there is a new craft beer or craft distillery opening up every few months here in Reno. Check out The Depot down on 4th Street for some finely aged bourbon and gin, plus the added bonus of being a great date night location due to their fun and rowdy bar crowd and unique food offerings. Plus, the back-story on the building in which they are located is worth the visit itself! Also, according to Local's Only Morning Show host (and host of local video review website www.twodoodsreviews.com) says Seven Troughs Distillery in Sparks might be the best maker of small batch Rum, Vodka and an authentic recreation of Nevada's first legal whiskey with their "Old Commissary" on the entire West Coast! In fact, Seven Troughs works with the Reno Rodeo for their Legacy Vodka.
Of course, a blog about local brewers could be long enough as a stand-alone, however here are some of the more noteworthy local craft breweries. The Red Ale at Silver Peak is always a great choice, as is a 12 pack of Icky from legendary Great Basin Brewery. The Icky is a wonderful, slightly sweet finishing classic IPA. Both brewers have been in Reno for quite some time and both offer a selection of great food and beers that run the taste profile from Pilsner to Stout. Brasserie Saint James is one of the more recent additions to our craft beer scene that has been garnering some great national praise as have the folks at IMBIBE.
Of course if jewelry or alcohol aren't really in your budget or 'spirit' wheelhouse, as mentioned above the folks at Buy Nevada Local have a wide range of Reno and Nevada-centric items up for sale, from locally roasted coffee (shout out to Warrior Roasters who give a portion of proceeds to the local Veteran's Guest House) to locally produced food and clothing. If you are looking for something unique and interesting this Valentine's Day (or Mother's Day…Father's Day), pay them a visit!
Ever See Any Of These Movies Filmed In Reno?