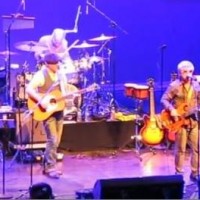 As a professional musician and a long time radio guy, I love to go to concerts. My only problem, is that, as a working musician, it's difficult to see shows because I usually have a gig on the same night. When I do have the opportunity to see a show, I pick and choose very carefully whom I go to see, since my chances are few and far between…I want the most "bang for my buck", so to speak. 
   I've been to some great shows since moving to the area in 1991. I won't take you back that far, instead, let's concentrate on some recent shows that stood out to me. 
One of the best shows I've seen in the last few years was Zappa Plays Zappa at Cargo concert hall in Whitney Peak. Being a monster Frank Zappa fan, I wanted to see his son Dweezil play his father's music to see if he would do it justice. I was not disappointed.
Another standout was Jason Bonham at the Silver Legacy. Again, I wanted to see if he'd do justice to his father's musical legacy, being a huge Led Zeppelin fan, and again, I was not disappointed.
   But, by far, one of the best shows I've seen in the last few years, has been Ambrosia! They've been coming to Boomtown every year for the last couple of years and will be there again this Saturday, 2/11/17…and I plan to be there again. You might only know them for their huge selling "power pop ballads" that established them as a mainstream force in the mid `70's to the early `80's, such as "Holding On To Yesterday", "You're The Only Woman", "How Much I Feel" and "Biggest Part Of Me". But, I started listening to them when they first came out in 1975. They were always a very melodic band with heavy Progressive Rock leanings, which appealed to me immensely, especially the song "Nice Nice Very Nice", from their first album, with lyrics by Kurt Vonnegut, Jr. In case you didn't know, Alan Parsons (of Dark Side Of The Moon fame & his own band later) was the engineer for Ambrosia's first album and the producer for their 2nd, while all 4 members of Ambrosia played on the 1st Alan Parsons Project album, "Tales Of Mystery And Imagination", which was recorded soon after Ambrosia's 1st album. So, they're not just a "ballad" band…they rock hard!
What has your favorite concert been in the last 10 years?
If you have the chance, explore Ambrosia's early material and go see them this weekend. Make sure you say Hi…I'll be at the 8pm show!
How close to Reno will Iron Maiden come on their 2017 tour? Click to find out!