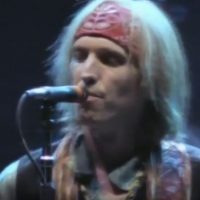 *UPDATE- 3:20 pm PST* from ABC NEWS:
Tom Petty was taken to a hospital Sunday night, law enforcement officials confirmed to ABC News.
The Los Angeles County Sheriff's Department in Malibu responded to the singer's home at 10:50 p.m. Sunday.
The singer, 66, who wrapped his 40th anniversary tour with the Heartbreakers last month, was then rushed to UCLA Medical Center in Santa Monica. His status is currently unknown.
The Los Angeles Police Department issued a statement Monday afternoon amid numerous reports of his death, noting they had "no information about the passing of singer Tom Petty."
"Initial information was inadvertently provided to some media sources, however the LAPD has no investigative role in this matter. We apologize for any inconvenience in this reporting," the statement concluded.
ABC News reached out to a representative for Petty but didn't immediately hear back.
This is a breaking news story. Please check back for updates.
Tom Petty hasn't been in great health the last few months, recently having to reschedule several West Coast shows due to a respiratory illness.
Sadly, news has come today that the legendary singer/songwriter has died due to a massive heart attack. Petty (66) was found unconscious and not breathing, in full cardiac arrest at his Malibu home late Sunday evening. While EMT's rushed to his home and were able to get a pulse, by the time they got him to UCLA there was no brain activity and the difficult decision was made to take him off life support.
"In December, Petty told Rolling Stone that he thought this would be the group's last tour together. He said, "It's very likely we'll keep playing, but will we take on 50 shows in one tour? I don't think so. I'd be lying if I didn't say I was thinking this might be the last big one. We're all on the backside of our sixties. I have a granddaughter now I'd like to see as much as I can. I don't want to spend my life on the road. This tour will take me away for four months. With a little kid, that's a lot of time."
Petty, who released three solo albums and 13 albums with Tom Petty and the Heartbreakers, also took part in the 1980s supergroup the Traveling Wilburys with Bob Dylan, George Harrison, Roy Orbison and Jeff Lynne."
Here's an interesting story on Tom, found on his Wikipedia page: Thomas Earl Petty was born and raised in Gainesville, Florida, and attended Gainesville High School. At the age of 17, Petty dropped out of high school in order to join the band Mudcrutch. He never returned to school, besides working with the grounds crew at the University of Florida in his home town in Gainesville. His interest in rock and roll music began at age ten when he met Elvis Presley.[3] In the summer of 1961, his uncle was working on the set of Presley's film Follow That Dream in nearby Ocala, and invited Petty to come down and watch the shoot.[4] He instantly became an Elvis Presley fan, and when he returned that Saturday, he was greeted by his friend Keith Harben, and soon traded his Wham-O slingshot for a collection of Elvis 45s.
I was lucky enough to see Tom Petty perform at the Reno Event Center several years ago. He was an amazing musician and put on a killer show.
Tom actually was a fan of Reno, Nevada, choosing to record part of 'Take The Highway Live' in Reno at Lawlor Event Center. Check out some of the YouTube videos below from that show back in 1991.