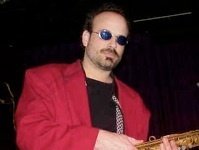 NAME: Rick Metz
ALIAS: The Saxman
WHERE WERE YOU BORN: Brooklyn, NY
NUMBER OF CANDLES ON YOUR LAST BIRTHDAY CAKE: 52
SERVED TIME IN: NY, NM, WA, CA, NV (I hope you're asking where I've lived?)
FAVORITE EXPRESSION: "Some scientists claim that hydrogen, because it is so plentiful, is the basic building block of the universe. I dispute that. I say there is more stupidity than hydrogen, and that is the basic building block of the universe." – Frank Zappa
PETS, PIERCINGS, OR OTHER THINGS THAT START WITH THE LETTER P: 2 cats, no piercings, LOVE Kosher Dill Pickles!
FAVORITE DRINKS: Maker's Mark Bourbon, Single Malt Scotch, Microbrew/Import Beer
FAVORITE FOODS: Steak, Sushi
WHEN BORED I (FILL IN THE BLANK): play my saxophone or listen to music
MOST ANNOYING THING TO SAY TO ME: anything stupid or uninformed
DO YOU HAVE A SECRET OTHERS WOULD BE SURPRISED TO KNOW: no
MENTOR- WHO DO YOU LOOK UP TO: Frank Zappa
YOUR BEST QUALITY: my boundless ego!
YOUR WORST QUALITY: my boundless ego!
YOUR WORST FEAR: drowning
WHAT THREE WEBSITES DO YOU VISIT THE MOST: www.RickMetz.com, www.BurningMan.com, www.RAIDERS.com