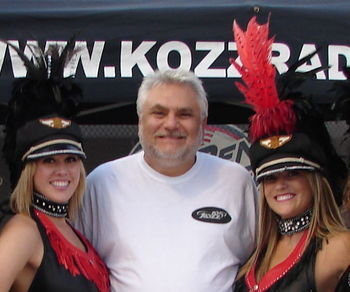 Ken Allen, Weekdays – 7pm to Midnight
NAME: Ken Allen
NICKNAME: F**ker
HOMETOWN: Sharecropper Co. Mississippi
I was given the gift of life by the deity Aeval. It's not easy being the offspring of a deity. And a hottie deity at that.
FAVORITE BAND: The Wiggles
GUILTY PLEASURE:
The liberal media's eventual conquest of all that is good and right in the world.
BEST CONCERT YOU'VE EVER BEEN TO:
The 1975 Beatles tour of K-marts in Wyoming
5 FAVORITE CDS / TAPES / RECORDS:
The soundtrack to 2001 A Space Odyssey
The Clockwork Orange soundtrack
The soundtrack to Dr. Strangelove (or how I stopped worrying and learned to love the Bomb)
The soundtrack to Eyes Wide Shut.
The soundtrack to The Wiggles Take Manhattan.
5 FAVORITE MOVIES:
The Muppet Movie
Behind the Green Door
Mary Poppins
Anything with Rowan Atkinson in it\
Battlefield Earth. (vastly underrated)
FAVORITE QUOTE:
"Any idiot can face a crisis – it's day to day living that wears you out." Anton Chekhov
WHO OR WHAT INSPIRES YOU:
People who sell Amway
RADIO LISTENER HORROR STORY:
That they listen.
WHAT DRIVES YOU ABSOLUTELY CRAZY:
Having to fill out questionnaires
WHAT DO YOU SAY TO SOMEBODY WHO THINKS THAT VINYL IS A TYPE OF FABRIC USED IN CLOTHING:
~Try steel wool.
WHAT WOULD YOU BE DOING IF YOUR WEREN'T IN RADIO:
~10 to life
E-mail Ken!
Click here to e-mail Ken!